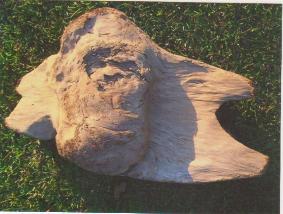 Artifact Found In Emuckfaw Creek
Tallapoosa County

What you're looking at was not carved by human hands. It was not carved at all. You are welcome to
examine this artifact for yourself. You will find no knife marks, no sanding marks... this was created
by nature.
It does resemble the face of a Sasquatch, or at least we think so. One of our friends and now one of
our members found this about 2 years ago.

A White Bigfoot Reported In Blount County, Alabama
~Possible Albino !~

Recently we received an e mail from a woman whose son had made a Bigfoot sightings 3 years ago. She also had a sighting in the past few
weeks. As is our policy at Alabama Bigfoot Society, we do not use real names or give exact locations of sightings on here. This is to protect
the individuals privacy and could protect the life of a Bigfoot.
Blount County is located in central northern Alabama, between Birmingham and Huntsville. Blount County was created Feb. 6, 1818, from
lands ceded to the Federal Government by the Creek Nation, Aug. 9, 1814. It was named for Gov. Willie Blount of Tennessee, because of
the assistance he provided Alabama settlers in the Creek War. It has a population of just over 51,000 people. An is called the Covered
Bridge Capital of Alabama because of the three covered bridges it still has standing. More than any other county in Alabama. I like to provide
a little history of a county when we have a new sighting. Gives me a feel of the land so to speak.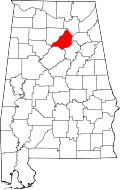 But on to the sighting report. After reading the e mail I contacted the mom, whose son had encountered a Bigfoot. We decided to communicate by telephone so she could give
further details. The sighting had occurred about 3 years ago. Her son was 9 years old at the time. She and her family had just purchased a home. It was an older house and
they planned to restore it to its original state. It was located in the northern part of Blount County, and north of Oneonta. There is a creek nearby, a sizable creek. The woods
around the area supply an abundance of wildlife. So with the water and game nearby, this is a very good habitat for Sasquatch. Over time the land around the house had grown
up with foliage. This particular day all the family was cleaning, cutting and doing yard work.
While she and her husband worked in the front yard that day her son had gotten around to the backyard. And this is where the sighting happened. A sighting she says her son,
and she still remember well to this day. It was mid day as he came running around the house yelling about the giant creature that was in a ditch! At first he thought it was a
large man with a white hood over his head and it severely frightened the young boy.

They all went around the house to see if it was someone who intended to do harm. But the creature was well gone by now. Her son says the creature was in a ditch and that he
and the thing caught each others attention at about the same time! They made eye contact for a few moments. He says they looked at each other eye to eye! But that it made
no sound nor did it make any threatening move toward him. It simply walked slowly off into the dense forest. As it walked away he could then tell it was covered entirely with
long solid white hair. The long hair fell over its face and he could make out no other features than its eyes. Her son told them where the creature stood and how far up its
head was according to the bushes and trees. They estimated it to be about 9 feet tall. This was the only time he has seen the albino sasquatch

Then recently the Mom, who never doubted what her son saw, made a sighting for herself! A few nights ago around 11 PM she walked out side to let her dog out of the
house. In the distance, but not far away a power line crosses the property. There is a power pole in a small clearing and on this night the moon was shining. It was beside the
power pole that she noticed a very large figure standing next to it. There was no one who it could or should be because of the size. She could not tell the color, she could
only make out the outline of what looked like a Bigfoot!

I have had another report several years ago of a creature that appeared to be a Bigfoot only much smaller in a creek that was brown and white spotted. Then about 4 years
ago I had another report of a gray-white Sasquatch in Tallapoosa County. We think it may have been an old Sasquatch and was turning gray with age.


The Alabama Bigfoot Society

Dedicated To The Research & Preservation Of This Creature And It's Habitat.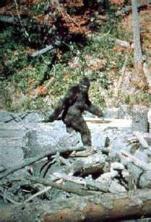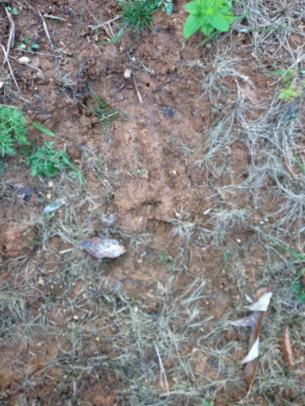 Track Found In Tallapoosa County, Alabama
Thanksgiving Week, 2013

The photo at right shows a plain foot print in the wet
soil in Tallapoosa County. Photographed by a young
man whose family I have known 25 plus years. Toe
prints are plain. Photograph was made in a location I
personally know is a 'hot spot' for sightings.
This track was approximately 18 inches long. It was
made near New Site, Alabama. The place it was found
is another spot that massive logging was taking place
at the time. The loggers were no longer in this particular
location, they'd finished here and had moved deeper
into the woods. A Young man doing other work for the
landowner discovered these tracks. He said there were
others,but not being interested in Bigfoot only made
the one photo. These tracks were very near a small
pond that had been hidden away in the forest for many
years. The pond is no doubt a food sourse for the
woodland creatures there and Bigfoot as well.

Something Strange Is Always Going On In Zana ! (Not a Place For The Weak Hearted!)



What May Be A Black Panther Cub video ed In Tallapoosa County, Alabama

What may be a Black Panther Cub was caught on video by a game camera in January of 2014. Not by a cheep game camera, one that allows the owner to sit at his computer and
watch it as he has time. It has the ability to be moved by the person viewing the screen at the time so they can zoom in on what they're watching. Check out the video at the
link below.



Ghosts Caught On Video At Horseshoe Bend

Saturday afternoon, (10-18-14) was an active day in the park for many ghosts. While Jim was shooting video, unknown to him in the back ground
a mysterious fog formed in front of the distant trees, then suddenly flashes of light began...first in the forest, then near center of the Holy
Ground, the flashes got closer and closer to him. One large flash appeared about 10 feet behind him. As the flashes continued, it looked like
people began to move out of no where along the tree line. and still behind him, as if they were watching him. Then he change camera locations.
All locations were around the Holy Ground or High Ground as it is sometimes called. Suddenly a white cloud or something walks up to his back!
It lingered there a few moments and then reached its hand out and touched his face! Jim knew nothing of this at the time. It was only after he got
home and began reviewing the video that he and Dorothy saw it. The video is on youtube ...check it out!

Signs Of Bigfoot Found In DeSoto State Park

Over the weekend we received these photos of a mysterious looking rock formations, several other photos of what looks very
much like Bigfoot habitation in DeSoto Park area. Check the photos below and decided what you think

This formation is somewhere between the
Tombigbee and Alabama Rivers, on privately
owned land, owned by the person sending the
photos. Also they have heard very loud, heavy
sounding wood tapping at night in this area.
They said the force of the knocking was stronger
sounding than a normal human could hit a tree.
A short time go, they had panthers on their
property as well. The witness, sender of the
photos, saw a panther in their yard and days later
a neighbor reported to them that they had seen a
black panther sitting in their driveway one night
as they passed by With each photo, I have given
a brief description. Check them out and see what
you think.

NOTE* The area here, of the photos is not far from where my family and I lived when i was in the 4th grade, (mid 1960s)and a place where my father and several other workers
discovered large bare footprints at a construction site that had been vandalized over one weekend. There was damage to trucks and equipment, also 55 gallon barrels of oil and
fuel had been tossed around. In those days we'd never heard of a Bigfoot.

LEFT:
Excellent footprint that witness says was about 11 inches from heel to toe. Track has no arch like a human would have.
Mud appears soft enough that it would have made an arch print. Sasquatch prints seem to have a flat foot. These three
photos are from the same area a family encountered a Sasquatch about 1 year ago.

Numerous bent trees and limbs from same
area. Sasquatch signs!

RIGHT
Swamp area with
snapped limbs and
upper portion of a
tree clawed and
chewed as if
something was
eating insects in
the dead wood.!

LEFT:
Another angle of
swamp area

Additional foot prints in swamp filled
with water

RIGHT
Old foot print filled with
water and measured,
approximately 8 inches
from heel to toe

Den for something with clear area in
front and trails leading to it.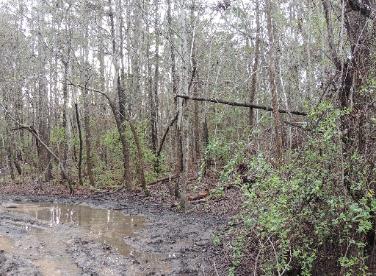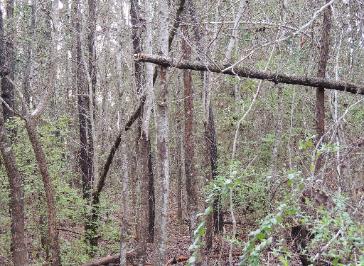 Close UP of
Broken tree near swamp

14 inch Foot Print Discovered
In Tuscaloosa County

Tuscaloosa County is a hot spot for Bigfoot these days. This is another foot print photographed in
Tuscaloosa County recently. It measured about 14 inches from heel to toe.



Bigfoot Signs from Clark County

More Encounters In Tuscaloosa County

Something has Bigfoot stirred up mainly along the Black Warrior River. And when it comes to the Warrior River, reports over the last few weeks are from one
end of the river to the coast line.
Our latest report from areas along the Warrior is from two hunters, a brother/sister who were hunting last hunting season in the Holt Lake area. Holt Lake is
along the Warrior in Tuscaloosa County To their surprise while hunting , a Sasquatch made a very loud scream quite close to them, they then heard heavy
footsteps running in the woods close to them. The footsteps were extremely fast they reported.


7.18.14


Foot Prints Photographed In
Oak Mountain State Park

A couple who were camping in Oak Mountain State Park over the weekend of July 20, 2014 discovered this foot
print early their first morning there as they hiked along a park trail . It was a beautiful morning and they decided to
walk down to a nearby lake along stream, as they walked over the bridge, the man noticed this print in the mud along
the edge of the stream.


7.27.14

Black Panther In Clay County Alabama

The photo at right was sent to our office a few days ago. I regret that I have been unable to get it
posted until today, 9-02-14. (Most of you know I have had surgery and haven't been able to update the
site.), All I can tell you about he photo right now is.... it was made by a game camera in Clay County,
Alabama. I will be working on details of the story as I can.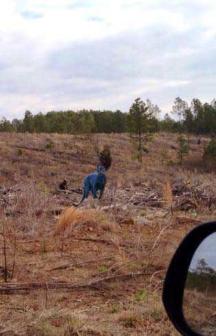 Photo taken from driver seat
of car from the road way.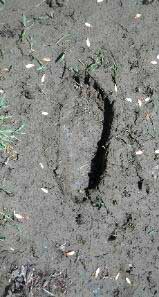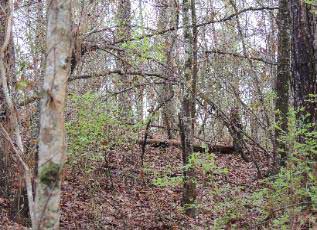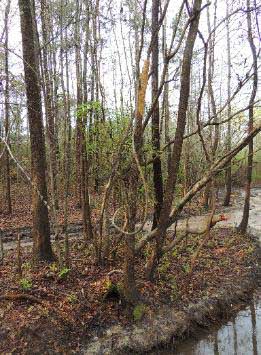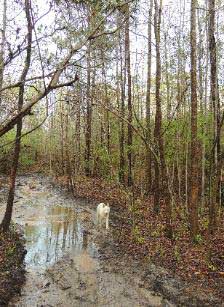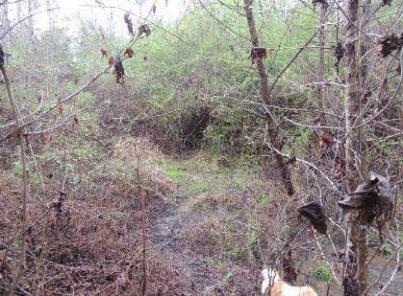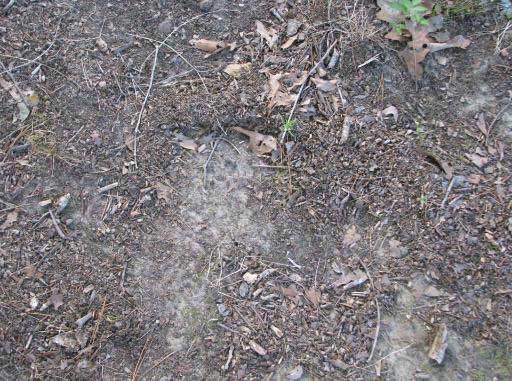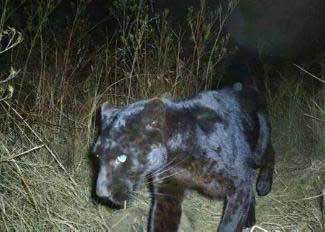 Possible Bigfoot Shakes Campers Door Knob In Franklin Couny

Feb. 2015, A few weekends ago a group of people who went in search of Bigfoot, believe they came very close to the creature while walking down a forest trail. That night,
they heard heavy foot steps following along side them in the woods. Later they returned to a camper trailer they were to sleep in that night and around 3 AM were woken by
sounds of something turning the door knob. They heard later something rambling through the coolers they had left outside. Upon checking them the next morning, they
discovered several missing items from the coolers. This is a location where they investigated last year and believe they encountered Bigfoot also on that outing. It is an
area in Franklin County where our Tall, hairy friend has been spotted in the past. Another investigation trip is in the planning stage with these investigators which is to take
place shortly.

*A NO KILL ORGANIZATION ! *

Two Deer Hunters Held In Deer Stand By Angry Bigfoot Near Lake Guntersville, Alabama

Marshall County, Reported Jan. 2015.....Deer hunting mom - son team terrified by angry Bigfoot!

A Marshall County mother carried her young son on a deer hunting trip along Lake Guntersville over the past
deer season and wound up running from the woods in fear of their lives. They had climbed into a deer stand left
by a hunter several seasons ago and after they'd sat there a while heard something stomping and rambling in
the bush a little ways from them. Suddenly they heard something that sounded huge, charge the stand and as it
came almost directly underneath gave out a blood curdling roar! The mom identified it as a Bigfoot! The creature
shook smaller trees, and nearby bushes for what the mother said was at least half an hour, She was frightened
but tried not to let her son know that fact. He was terrified and wanted to jump from the stand and run to the
safety of their truck. She would not allow him to do that. Afraid of what the creature might do if it captured one of
them. They were armed only with a crossbow. After what seemed all afternoon, the Bigfoot stomped, growled and
snorted off into the woods. She said she heard it for a long ways. When she thought it was far enough away, she
instructed her son to run for the truck and get inside. As quickly and quietly as they could, they descended the
stand. They sprinted to the truck and locked them selves inside, cranked up and left as fast as possible. She
said they will not return to the area alone and the next week end they along with several friends did return to
the tree stand area and found many signs of Bigfoot, Bent and broken trees and rock piles. There is lots more to
the encounter than I won't list here, complete report is in my files. She said the deer stand had been in the same
spot for years, they had hunted from it before. So why would a previous hunter leave an expensive piece of
equipment so it could be possibly stolen? Did the same thing happen to the stand owner years ago? Or
something worse?
We have received numerous reports from the Lake Guntersville area in the last few weeks of Bigfoot and other
paranormal encounters as well!
Is there something going on in, under or around this massive lake?

A Black Panther
Photographed In
Tuscaloosa County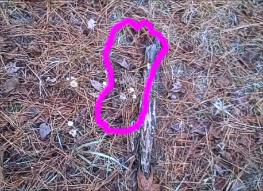 Footprint above was made in
Tallapoosa County near the same
location as the print at left. This one was
made by another person, 2 years after
the other photo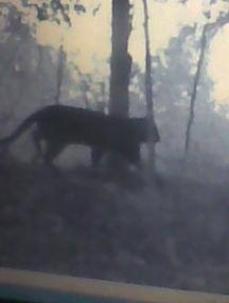 Possible Black Panther Photographed Near NewMarket, Al.
*Madison County*

...Mar.3, 2015.... The Black Panthers are steadily moving north across the state. We received the photo below just
tonight from a fellow member in Madison County. Photo is said to be taken by a trail camera somewhere near
Newmarket, Alabama. Photo appears to me to be an early morning shot.

(Note** Although it does look like Alabama lately with all the damp fog, shape of cat resembles a tiger some what.

It appears a very recent photo, as the foggy weather is exactly what all of Alabama, has experienced over the past few
months. Photo was made from a trail cam near New Market, Alabama
located in extreme north east area of state.

Searching For Breakfast
In The Deep Woods?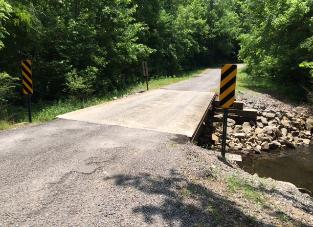 What Haunts This Rural Bridge In North Alabama?

One of our members in North Alabama Has sent this photo and a ghost story about this haunted Bridge.


The bridge is located in Morgan County. The story or legend that goes with the photo is called 'Cry Baby Holler".
Many years ago, there was an accident on the bridge. The accident involved a wagon or a car. That piece of information, which
ever one it was,has been lost over the years. As a result of the accident, an infant was thrown out of the wagon or car and
apparently died there. Now late at night when you cross the bridge, stop and listen... you can actually hear the baby crying.. Thus
the name, 'Cry Baby Holler'. It is also said that when you go there, if you leave a piece of candy on the bridge. It will be gone
when you return.You might want to try it somenight. I would like to investigate here my self.
Thanks P. for the ghost story.



Another Bigfoot Sighting In Clay County's 'Hot Spot'
Wood Knock Holler

..Wednesday July 15, 2015 was a hot summer afternoon as another Bigfoot was spotted in the remains of Wood Knock Holler. A very active area for Bigfoot in Clay county that
was recently logged. Even now, with little woods to hide in, the Sasquatch are apparently still lingering in their old stomping grounds according to a witness who saw a very
large reddish brown one standing in a field as he drove by Wednesday afternoon.. Check out our lastest You Tube video on this sighting titled

Alabama Adventure Wood Knock Hollow 4


Mysterious Creature Sighted In Montgomery County

There have been several sightings of a very strange looking creature just outside Montgomery City Limits near a swampy area, where the creature apparently lives and has
done so for several years. Witnesses describe the thing as about 9 feet tall and walks on two legs and is always in a hunched position. As for its feet, large or small, have
never been reported as the creature is always seen in tall grass, no foot prints have been reported. What is so unusual about it, is that it has the head of a deer, with
antlers. However it has no facial markings like local Alabama deer. Some witnesses have reported it has only three fingers.
Sightings of the thing go back about 15 years. One sighting -reports says a farmer actually shot it a few years ago and thought it wondered into the swamp and died, there
was a 2 to 3 year period it was not heard of. If it was the same creature shot, it has apparently over come its wound and has returned. Its eyes are said to glow in head light
or flash light beams. As far as it is known, the creature has never shown aggression. Reports claim it is always seen near the swamp and walking slowly in or out. It is
referred to as the 'Well Road Swamp Creature;. If you have seen the creature, we'd like to hear your account and I will pass it along to the person who sent this report and is
investigating sightings.


Bigfoot Spotted Again In Zana, Near Emuckfaw Creek

Possible Bigfoot Encounter At Green Mountain
In Huntsville,, Madison County

In a report received tonight, Saturday Aug. 15, 2015, a family , while making photos of pushed
down trees and looking for possible Bigfoot tracks on Green Mountain in Huntsville, began
smelling a terrible odor. They all said the odor was not there when they arrived and came up
quickly after they had heard strange noises in the woods. It could have been a Bigfoot
nearby and was curious about what they were doing. This part of Alabama is a hot spot for
Bigfoot as we have received several reports from Madison County over the last year.



We Call This Photo
'Last Seconds Of Life'

Cougar Caught On Trail Cam....
Coosa County

Cougar Spotted In Clay County
Near Mellow Valley


Cougar Seen Crossing County Road 79
Near Mt. Gillead Church In Clay County



Alabama's 'Bigfoot Highway'... Sighting Near Daviston, AL Tallapoosa County


Mysterious Wolf like Creature Hit On Road...Montgomery County

Our First Bigfoot Report From ...Houston County


One of Wadley's

Most Haunted Houses
@ Twilight

Once again along Alabama Highway 22, just east of Daviston, a dark brown Bigfoot was seen by a motorist as she drove west toward Daviston. It was the
first week of August 2015 and had been drizzling rain all afternoon. A small patch of woods had been left in an area that had been logged over the summer.
This is where she saw the Bigfoot walking through the woods toward the highway. Witness estimated the Bigfoot to be at least 8 feet tall and very thick
build.

In mid December, 2015 we received an email & photo from a man in Montgomery County. In summary his emauil said... At
the place he worked in Montgomery county, earlier that morning, a strange looking animal had been hit and killed by an
automobile. When he and other employees went to look at the animal closer they were unsure of what it was, a dog?, a
coyote? , a Wolf?... or something else?... One strange event was that within 10 minutes of the thing being killeda game
warden stopped and picked up the body, very quickly and left also very quickly. This seemed strange to the people in the
plant as other animls in the past that had been hit along this road were left to the buzzards. No dead animal before or since
has ever been removed from the road espeecially by a game warden. I asked a man from Auburn University to look at the
photo. Also an Alabama Animal Control Officer has viewed the photo. These two people, many milesd apart reached almost
the same conclusion in what they think the creature is and why it was picked up by a state Game warden. I will not reveal
their opinions at this time. I would like to hear your conclusion. Thanks Mr. B for this interesting photo.

**NOTE** Before You email me complaining about the quality of this photo, the man who sent it said
it was made a while back with an old game camera he owned that used film. And this photo was a
scan he did of that photo. He did not give an exact date of the photo, only 'a while back'.

The gentleman sending this photo did not give an exact date or location in Coosa County. He said it
was made on his private property where he and friends hunt everything from quail to deer. He said
he wanted to pass a copy of the photo to me in hopes I would post it on the site... (as I have done.)
The photo shows a full grown cougar about to pounce on a doe deer. Apparently the deer has no
idea the cougar is around. The gentleman said he had asked game wardens if cougars were in
Alabama and they scoffed at him answering 'no'. He further said when showing some of them the
photo , he got smiles, laughs and had been accused of concocting the photo.
You look at he picture and decided for your self. Personally, I think it is real. I too wish the quality had
been better, but all of life is not perfect. The light area in the photo could be from the camera flash.

Driving toward Mellow Valley on Bluff Springs road, and about two miles from the intersection
of Alabama Hwy 48, a man and his wife saw a cougar, they believe run across the road. It
trotted across the road and made a very high leap as it went into the woods under growth. It
was tan and had a very long tail, the wife described. She said it moved gracefully crossing the
road and both said it was a beautiful creature, although they knew it was a dangerous animal.
He also added he remembered the tail as being darker on the tip end than the rest of the tail.
This and the sighting above could very easily be the same cat.

Aug.1, 2015, It was around 6 pm as a couple drove north on Clay Co. Rd, 79.
Nearing the intersection of County Road 79 and Hodge Creek Road a large tan
colored cougar bounced across the road in front of them. Upon entering the
under growth on their right side, it disappeared and was gone from sight as they
slowed , almost stopping at the place it had just crossed the road

In Dec. 2015 a woman in Houston County was watching a late night Bigfoot show. On the show several howls and whoops were
played of Bigfoot. A nearby Bigfoot may have heard these sounds and came to investigate for himself. The TV was not overly loud but
was loud enough the woman could hear all the Bigfoot sounds clearly. As she watched she began to smell a very bad smell that
seemed to come from outside her living room. At some point she noticed a shadow, a very large shadow pass her living room window.
It was only a few moments later that she felt the rear end of the mobile home be lifted up and slammed back down!. What animal in
Alabama could lift a mobile home? The terrible smell lasted for some time. We have received Bigfoot reports from surrounding counties
in the past.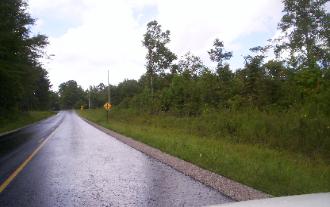 Cougar crossed
near first sign


Bigfoot Almost Hit By Car On Alabama Hwy.148 ,,,,, Clay County

Aug. 21, 2015... Clay County Alabama, is known for many things. It is called, 'Alabama's Volunteer County'. It is home of Alabama's tallest point, Mt. Cheaha. A
place by the way where we receive Bigfoot reports throughout the year. It is also home to a large portion of the Talladega National Forest. And it is a very 'Hot
Spot' for Bigfoot sightings!
Today I receive another Bigfoot report from Clay County, from one of our members there. I would love to give her credit for the report, but she holds a well
known position in the county, and as you all know, members and witness Identities are kept strictly confidential here at ABS.
The sighting / encounter happened in January 2015. It was late at night along a lonely, scarcely populated section of Hwy. 148. The witness and her Mom were
driving east , and I might add the two women are excellent witnesses because of the jobs they hold in the area. Mom had drifted off to sleep as it was late. As
they rounded a curve the daughter saw a figure standing along the road side as her headlights hit the creature. They approached it at a normal rate of speed,
around 60 mph. Suddenly the creature began to walk across the road. The driver hit her brakes and screamed, waking her Mother who also got a good look at
it as it casually walked toward the other side of the Highway. Both women say it was over 6 feet tall and was completely covered in long dark brown hair. Both
say it walked with a slight slump forward. Both also commented that the creature never looked toward the vehicle, it seemed well focused on its trip across the
roadway. It never paid any attention to the car, that almost hit it!
Frighten at what they seen, the daughter drove home as fast as safely possible. At home, the mother wanted to call the local sheriff dept. and report what they'd
encountered. After thinking it over they decided it would be best to keep the event of the night unspoken of for about 6 months. One reason being, they felt no
one would believe them and there could be complications to both ladies jobs if such a story became known publicly.
About 6 months have now passed and the daughter one day lately decided to confide in a good friend, who just happens to also be a good friend of mine and
a fellow member of Alabama Bigfoot Society.
Other Bigfoot reports have came from this area in the past as well as 'Mystery Animal' reports. UFO sightings here and there along this road, Even the famous
Sylacauga Meteor passed in the sky over this stretch of asphalt , now some 50 years ago. I have even received a report of landscape or a mountain changing
shape from one moment to another. I am not sure what that phenomena would be called. Maybe i need to move to this area!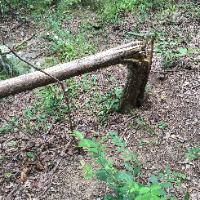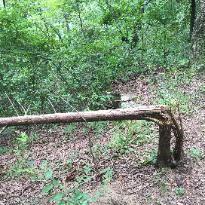 Two additional photos will be posted shortly

Possible White Bigfoot Caught On Video,,,,, Clay County

On July 15 of this year another video was made in Wood Knock Hollow within 30 minutes of a confirmed
Bigfoot sighting. That video is on You Tube.com What appears to be a large White Bigfoot is seen running
or walking very fast through the forest on a distant ridge in the video. White Bigfoot have mainly been
reported in Northeast Alabama. We are currently preparing a You Tube video of that sighting. The Bigfoot is
solid white, snow white. Is this the famous 'Alabama White Thang' or another white Bigfoot. Numerous
sightings have came from this area in Clay County. We'll post here when that video is complete. Hopefully as
well, we can locate the land owner and investigate this area. It is no doubt the location of a tribe of Bigfoot or
a very well used crossing for them.

The sighting is currently on a you tube video. The white Bigfoot can be seen at the 18:33 - 18:40 mark time in
the video. Click this link to watch.

l
Clay County White Thang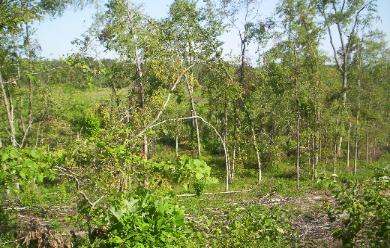 Photo made the day of sighting shows Bigfoot signs- Bent
Trees- returning to the area.
Area was logged several months ago. Even so, Bigfoot has
been seen here before, during, and after logging...
something very rare!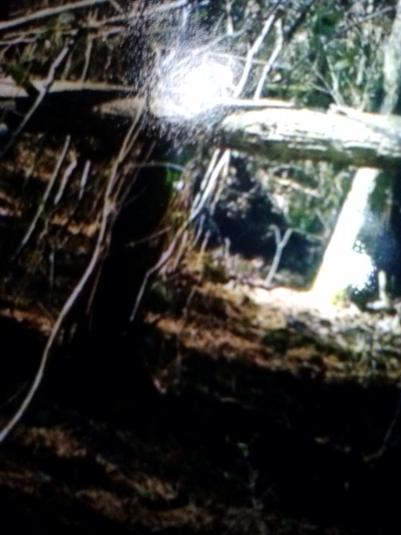 UPDATE**** A short time after the encounter, the mother along with friends went back to the area and made
several photos of Bigfoot signs. The white flash in the photo is where she en. Right is one of those photos
showing a large Bigfoot sitting on the ground looking directly at them!

The white flash in the photo is where she put the original on a copier and enlarged the area of the Bigfoot. An
ABS Investigator is currently on the way to the way to where this encounter occurred His report will be on soon.

You can hear the woman's account of this terrifying afternoon by clicking the link below



The Guntersville Terror

Is the crouching Bigfoot pictured here the same
one that held the two deer hunters at bay one
afternoon?
Ot is he a sentry posted to let the other know when
intruders enter the forest?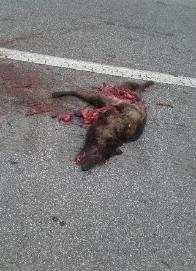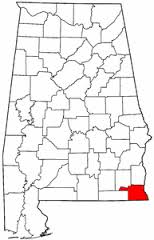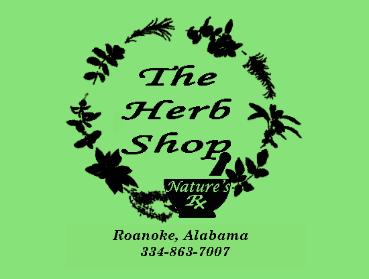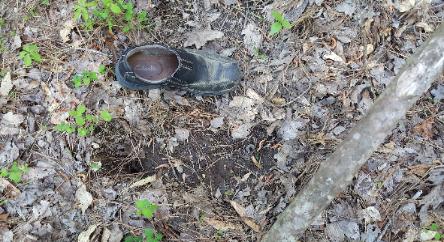 More Bigfoot Acivity in Tuscaloosa County


More Howls are being heard in an area in Tuscaloosa County. A family has reported howls at
night along with whooping. They have found numerous signs such as broken and bent trees.
They are now finding structures such as tee -pees.

The sounds have been going on for some time and are becoming more often.

Photo was takem in April 2016

Photo of Large foot print
The photographer placed his shoe next to the print for size
reference. Track measures 15 inches long.

.A woman driving along Alabama Highway 22 spots a Brown Bigfoot attempting to hide behind a tree near Germany Ferry Road.
Listen to her eye witness account on youtube at
Alabama Adventure Feb 2016 Eyewitness Interview , Zana Sighting

Two White Bigfoot Sightings In Escambia County Spring 2016

A woman and her daughter spotted a white Bigfoot crossing the road in front of them near rail road tracks only a few days ago. The car lights shined it well. A
few days later another daughter decided to go to the sighting location. She also saw something she couldn't explain, a hairy white creature standing along
the road. She later decided to make photos of the area and fond a set of old car keys and other trinkets... Did the Bigfoot drop them?



More Bigfoot Tracks Found In Tallapoosa County..Bigfoot Leaves Gift In Them?

Check out our latest You Tube Video..'Black Panthers, Bigfoot and the Lens cap Incident' for our latest investigation and theory Did Bigfoot really leave a lens
cap lost by the film crew in a track?

Possible DogMan Sighting In Dale County

9-13-16... Tonight we received a possible Dogman sighting this week in Dale County. A few days prior a Bigfoot was seen in the area. This is the third Dogman
sighting we have received in the past year in Alabama, one in Tallapoosa County, one in Montgomery County, amd this recent one.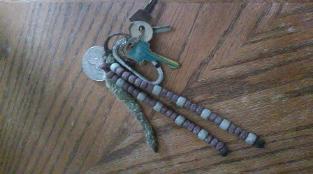 Were These Keys Dropped By A Bigfoot?

Shortly after a Bigfoot sighting, the witness returned to make photos of the area and location. To their surprise at
the exact spot where their headlights shined what looked like a Bigfoot the night before. They discovered this set of
old keys.. They are not new as you can tell. Was this something Bigfoot had and dropped when the headlight
surprised it? 9- 14- 2016 in south Alabama