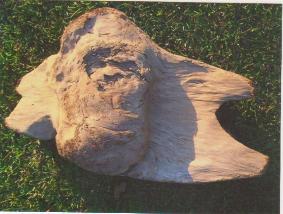 Artifact Found In Emuckfaw
Creek

What you're looking at was not carved by human hands. It was not carved at all. You are
welcome to examine this artifact for yourself. You will find no knife marks, no sanding
marks... this was created by nature, or as I like to think, 'Carved by the finger of God.'
It does resemble the face of a Sasquatch, or at least we think so. One of our friends and now
one of our members found this about 2 years ago. The following is how he obtained this one
of a kind relic.

Mr. Cox was retired, he was now a cattleman, horse trainer. On this particular early fall day
a man had called him the day before asking him if he would round up some cows that had
gotten out of their pasture. Cox had agreed to do so, this was what he enjoyed most. Being
on the back of a horse roping and rounding up cattle.

The cows were now in a densely wooded area around Emuckfaw Creek in Tallapoosa County, Alabama. The location is close to a place
called Zana. Zana was said to be one of the largest cotton plantations in Alabama before the Civil War. It was said to have extended well
west of Highway 22, (of course Highway 22 wasn't there at the time of Zana's heyday). And to have extended east and south east past
Horseshoe Bend. Horseshoe Bend is now a National Military Park. It was here that Gen. Andrew Jackson defeated the Creek Nation in
a famous battle there. This is an area of many, many square miles. Also according to legend, there were many slaves that worked the
fields in those days and that they brought with them a religion called Voo-Doo to Zana. It is quite possibly for this reason that Zana is
said to be haunted today.
Over the years that I have been investigating paranormal events, I have had several people tell me of things happening around Zana and
I have had a paranormal encounter or two there myself. But today traveling on Highway 22, you wouldn't even know when you entered or
left Zana. The pines and oaks and underbrush have retaken the land.

So now you know where Cox would be rounding up cows.
Over the day he had caught most of them. From time to time he on horseback and his dog trailing the next cow
had crossed Emuckfaw Creek. This time they rode a little ways down stream in the creek. Suddenly and for no
reason Cox's horse snorted, it seemed frightened. It reared its head and began balking, wanting to back up.
The animal became very frightened and nervous. Cox was having trouble staying in the saddle. It twirled and
bolted, something had upset the horse to no avail.

Then Cox saw what had frightened the horse. There appeared to be something, some creature, lying in the
creek under the water. Its head was just below the surface and it bobbled up and down, probably to get air.
The face was all cox could see. He reached for his pistol just in case the thing came up, maybe it would try to
catch the horse, dog or even him, he thought. He let the horse back down stream as he continued to watch the
thing in the creek. He tied the horse to a nearby tree then slowly walked upstream toward the thing. Now he
could tell it was no animal at all. It was a piece of drift wood! But the face looked like an ape's! Or more
accurately...A Bigfoot!

This thing was coming home with him, he thought to himself. But when he reached down to lift it from the water, it was extremely heavy,
after all, it was submerged in the water. It had been for a long time and it was completely waterlogged. After an hour or so he had it secured
to the saddle on the horse. They made their way through the thick under brush to his truck and trailer where the cows he'd caught were
inside. Cox was exhausted and it was time to go home.
The next morning Cox brought the relic to my house. It is unbelievable how much this resembles the face of an ape or Bigfoot. It was
created by nature, by water rushing down a creek. An it is in this very area that only a few months later a Sasquatch was seen by a couple at
night. Then we were notified of this sighting and began an investigation. We were astonished by what we found in the area, a rather large
area, but there were Bigfoot there!


A White Bigfoot Reported In
Blount County, Alabama
~Possible Albino !~

Recently we received an e mail from a woman whose son had made a Bigfoot sightings 3 years ago. She also had a
sighting in the past few weeks. As is our policy at Alabama Bigfoot Society, we do not use real names or give exact
locations of sightings on here. This is to protect the individuals privacy and could protect the life of a Bigfoot.
Blount County is located in central northern Alabama, between Birmingham and Huntsville. Blount County was created
Feb. 6, 1818, from lands ceded to the Federal Government by the Creek Nation, Aug. 9, 1814. It was named for Gov.
Willie Blount of Tennessee, because of the assistance he provided Alabama settlers in the Creek War. It has a population
of just over 51,000 people. An is called the Covered Bridge Capital of Alabama because of the three covered bridges it still
has standing. More than any other county in Alabama. I like to provide a little history of a county when we have a new
sighting. Gives me a feel of the land so to speak.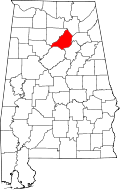 But on to the sighting report. After reading the e mail I contacted the mom, whose son had encountered a Bigfoot. We decided to communicate by
telephone so she could give further details. The sighting had occurred about 3 years ago. Her son was 9 years old at the time. She and her family had
just purchased a home. It was an older house and they planned to restore it to its original state. It was located in the northern part of Blount County,
and north of Oneonta. There is a creek nearby, a sizable creek. The woods around the area supply an abundance of wildlife. So with the water and
game nearby, this is a very good habitat for Sasquatch. Over time the land around the house had grown up with foliage. This particular day all the
family was cleaning, cutting and doing yard work.
While she and her husband worked in the front yard that day her son had gotten around to the backyard. And this is where the sighting happened. A
sighting she says her son, and she still remember well to this day. It was mid day as he came running around the house yelling about the giant
creature that was in a ditch! At first he thought it was a large man with a white hood over his head and it severely frightened the young boy.

They all went around the house to see if it was someone who intended to do harm. But the creature was well gone by now. Her son says the creature
was in a ditch and that he and the thing caught each others attention at about the same time! They made eye contact for a few moments. He says
they looked at each other eye to eye! But that it made no sound nor did it make any threatening move toward him. It simply walked slowly off into
the dense forest. As it walked away he could then tell it was covered entirely with long solid white hair. The long hair fell over its face and he could
make out no other features than its eyes. Her son told them where the creature stood and how far up its head was according to the bushes and trees.
They estimated it to be about 9 feet tall. This was the only time he has seen the albino sasquatch

Then recently the Mom, who never doubted what her son saw, made a sighting for herself! A few nights ago around 11 PM she walked out side to let
her dog out of the house. In the distance, but not far away a power line crosses the property. There is a power pole in a small clearing and on this
night the moon was shining. It was beside the power pole that she noticed a very large figure standing next to it. There was no one who it could or
should be because of the size. She could not tell the color, she could only make out the outline of what looked like a Bigfoot!

I have had another report several years ago of a creature that appeared to be a Bigfoot only much smaller in a creek that was brown and white
spotted. Then about 4 years ago I had another report of a gray-white Sasquatch in Tallapoosa County. We think it may have been an old Sasquatch
and was turning gray with age.



UPDATE...
On The March 7, 2012 Sighting

On Thursday March 8, 2012, I returned to the place of the sighting that had occurred less than 24 hours ago only now it was around 1 PM
and there was plenty of sunlight. In the photo above you can see how dark the woods looked with the sky above, but in the deeper woods it
was very dark yesterday. In the photos below you can now see the area in the woods the sasquatch ran and stood. All three pictures are the
same photo.

This photo was made at the same location we
were sitting in my Jeep March 7. Although
some what difficult to see in the photo,The tree
is plain to see at the actual location with this
much sunlight.

In this photo I have circled the location of
the snapped tree

Close up of the snapped
tree the Sasquatch stood
behind and looked at us


I also found what may have caused the Sasquatch to be in such a hurry and seem so frightened yesterday. Either the
landowner (a controlled burn), or someone has set fire to a large area of the woods in Zana. Some of it was still
smoking today. Burning is one reason we are seeing these creatures nowdays. We are literally burning up,
destroying their homes and I have a couple photos to prove that below. They are now being chased from their homes.
Many woods in this area are ancient forest. By that I mean, they haven't been cut in 50 or more years like the Zana
area and some have never been cut. Even areas in Zana were probably never cut because the woods provided food,
wild meat! I talked on the phone tonight to a man who has a large hunting club. He told me of knocking and tapping
noises he and other members had heard. Thank God there are still people like him who realize we need wilderness!
Only a brief time ago, I could have taken you to places that my grandfather and other old men would say, 'There is
land there that no man, not even an Indian has walked on.' This I believe was true. Well, let me pause, I'm getting on
my soap box with my opinion.....and we all know what Clint Eastwood has to say about opinions!

Ya know, opinions
are like ............,
Everybody has one

This limb formation is called a 'Tee Pee'.
It is believed the Sasquatch build it to sleep
under. Sometimes you will find these
covered with leaves, small branches, or
broom straw.

Same photos as the one at left,
Tee Pee circled for identification.
This formation could be seen from the road
after the fire burned the under brush, the
camouflage away.

This photo shows what i believe is another
Tee Pee a few miles from the burned one.
It too is in view of the roadway.

In the photo at left.
Does anyone but me
wonder who slept there
last? A male Sasquatch
on a hunting trip to
provide food for his
family?
A mother and a new born
struggling to survive his
or her first week in life
on this planet?
Did they all crouch
together in here
terrified last week when
the tornadoes struck
Tallapoosa County again?
When they smelled the
smoke were they in fear
of loosing their lives?
Where are they now?
Are they alive?

I wonder sometimes does
anyone give a damn.....



The Alabama Bigfoot Society

Dedicated To The Research & Preservation
Of This Creature And It's Habitat.

A Haunting In A House Near Dadeville

A while back a friend I have known for many years told me of strange happenings in an old house near
Dadeville, Alabama where a family member of theirs had recently moved into. The unexplained little
things have seemingly gotten worse after about 2 years. The main thing that is happening are pictures
falling off the walls and the ones on a shelf either being moved or turned face down.

September 2012

At first it wasn't that often, but lately, things there too are heating up. Lights now go on and off frequently. Unknown noises are heard
throughout the house and then only a few days ago, as one of the people living there lay down in the bed one night, a ghostly figure glided
silently across the bedroom! There were some strange, frightening noises then heard. A picture also fell off the wall just moments after
the sighting very near to where the figure was seen.
The person in the bedroom, got up, turned on all the lights in the house and the TV too! That made them feel safer anyway, or so they
reported.

On front of this house is a small front porch. There they have 4 chairs positioned at the four corners of the porch. That way when they are
sitting on the porch, they all pretty much face each other when talking. And one person added, 'I just like the way it looks and sits"
But the next morning as they walked out of the house to go to work....the next morning after the ghost figure was spotted that night, all the
chairs had either been moved to another location or were turned completely around! This gave the person a very strange and somewhat
frightening feeling. They began to re position the chairs to the original places and that was when they discovered a glass bottle sitting in the
center of the porch!

Who moved the chairs and where had the glass bottle came from? They all believe if someone had
done this as a prank, some one in the house would have heard the visitor, especially after the ghost
sighting and the pictures falling. No one slept sound, if any, that night. And how could it have
happened on the night of the sighting...of all nights?!

We plan to visit the old house and do a little investigating ourselves soon. I'll let you know what,or
who we find.



A Black Panther Reported Seen In Northport, Near Tuscaloosa,
In The Area Of The Northport Lake

In October of 2012, a young man, on his way home one afternoon spotted a large Black Panther in the area of Northport
Lake. He was exiting the Northport Publix parking lot, (there is a church and apartment near there with a small forest behind
them). This is where he saw the cat coming out of the woods. It appeared to him to be stalking something as its head
appeared to be sniffing for a scent. He estimated the cat to be 5 - 6 feet long not including the tail which was very long and
coiled one time. He watched the Panther some 10 - 15 seconds as he passed by. The last time he saw it, it was going back
into the woods flicking its tail as if it were stalking some thing. He added the fur on its back was very inky, dark black.

Bigfoot Sighted Near Daviston, Alabama ! Sept. 1. 2013

Just north of Daviston, massive logging has been going on for the last few weeks. Near the Tallapoosa-Chambers County line, a forest that hasn't been
cut in my lifetime, (57 years), is now being destroyed, clear cut. In my travels in this section of East Alabama, through this website, I have

made many new friends and acquaintances. As I talk to people now, it is unbelievable how so many of them feel the same way as i do about the logging
going on here in just this small area. It is my opinion, and now I found other people feeling the same way, that the land, the earth, Mother Earth, is being
damaged, destroyed, butchered, and raped. If you think for one moment that the earth is not a living entity, a living Creation, then you my friend are dead
wrong. How those who profit so greatly from this mutilation of the land sleep at night... well, I guess, if you have no conscience and have no compassion
for anything, sleep would come easy.
(Get back to the sighting report Jim, I can see Clint Eastwood shaking his head, and reminding you about opinions.)
Around 3 PM Sunday afternoon, 9-1-13. while the skidders, saws and trucks were quite, a Bigfoot sighting was made near this area. The witness who I
will call Charley, made a somewhat unusual sighting. As he drove eastward along Alabama Hwy 22, nearing Slaughter's old store, he glanced to a
pasture where he'd seen deer standing sometimes late in the afternoon grazing. This time something was a little different, something was a little out of
place, or should I say something was 'in' place that he hadn't noticed before.

To the far end of the small pasture, in the corner near the woods, stood a tall, completely hair covered creature. It stood on two legs. It appeared to be
watching the vehicle he was driving, as Charley says its head was turned to its right. I know that sounds like the classic Bigfoot sighting. Here's what all
was different.
It was thin. Not the massive, muscular, build of the normal Sasquatch. No wide shoulders, it looked to have narrow shoulders and they somewhat
slumped. Its hair was gray color with two dark streaks on either side of its torso. The dark streaks went from its chest to its legs. From what he could see
of the legs, they also appeared to have a dark streak on the back side of them. This dark color could have been caused by rain. It had showered that
afternoon. Back to the hair color. It was not a graying color with partial dark hair mixed with white as in aging humans. It looked like a Confederate gray,
Charley identified. Then what i haven't heard of in past reports I have taken... from just above the eye area, the eye brow, along the side of the face and
around the chin, the hair was snow white! This hair formed a beard that Charley estimates to be around 5 to 6 inches long from its chin. He could only
see one arm which hung straight down its side. After thinking about the sighting, he says the creatures knees looked slightly bent. Charley has added
that the Sasquatch looked very old, very tired and he believes it may have been sick. It just appeared that way to him, sickly. He estimates it was about 7
feet tall, but extremely thin.

When forests are destroyed, the animals that live there die, they have no food. Their food source is eliminated. Was
this creature starving to death?
I will try to get a photo of the sighting location on here in the next few days. We are also working on a sketch, and if
the witness says the sketch is close, we will have it on here as well.

Was this an 'Old Man". .. perhaps an 'Old Woman'.... A Sasquatch nearing its end of life and chased from its
home. Will it survive?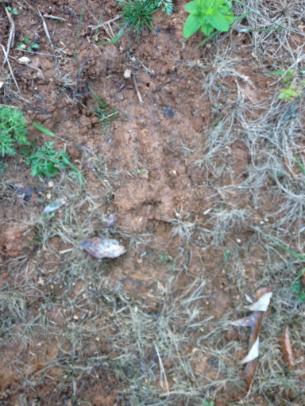 Track Found In Tallapoosa County, Alabama
Thanksgiving Week, 2013

The photo at right shows a plain foot print in the wet soil in Tallapoosa County. Photographed by a young
man whose family I have known 25 plus years. Toe prints are plain. Photograph was made in a location I
personally know is a 'hot spot' for sightings.
This track was approximately 18 inches long. It was made near New Site, Alabama. The place it was found
is another spot that massive logging was taking place at the time. The logger were no longer in this
particular location, they'd finished here and had moved deeper into the woods. A Young man doing other
work for the landowner discovered these tracks. He said there were others,but not being interested in
Bigfoot only made the one photo. These tracks were very near a small pond that had been hidden away in
the forest for many years. The pond is no doubt a food sourse for the woodland creatures there and Bigfoot
as well.




January Brings Several Reports Of Bigfoot Sightings

Whether it's the Artic Blasts Alabama has received lately, or the race by the loggers to completely rid Alabama of every tree and every form of vegetation by the
months end, Bigfoot sightings are on the rise. I am learning a new computer, but hopefully will speed up as I work with it to bring the latest sighting reports to
everyone. I will get those sightings on here in the next few days. They are from around the state, Tuscaloosa, Randolph, Chambers, to mention only a few.

Bigfoot Reported Near Wadley, January, 2014

Just across the Tallapoosa River in Wadley,once stood the town of Louina. It is now a ghost town. The only thing that remains of a once very large town is the
cemetery. Over the summer of 2013, logging cleaned the forgotten hills and paths of this once bustling city. County Road 33 now runs through the old ghost town and
it was about a quarter mile up County Road 33, from the Historic Marker on Highway 22 that a possible Bigfoot was seen very late one winter afternoon this year. It
was getting near dark as the witnesses saw what they described as a large, brown, hair covered, man-looking creature walking west, toward the river in the area that
had been logged over the summer. The turned around to come back for a better look, and hoperfuly closer look, but when they returned, as usual, the creature was
no where to be seen. It had either gone or had camouflaged in with the surroundings.

Another Chambers County Bigfoot Sighting, Jan. 2014

The third week of January brought yet another Bigfoot sighting report from an area of Chambers County that has known its
share of paranormal events in the past. Th sighting was made near mile marker 7 on Clacksville road going toward Antioch
Church. The photo at right, made along Clacksville Road shows a field where trees were cut a year or so ago. It was near the
center of the field that a motorist says he saw a Bigfoot standing. He says he got a very good look at the creature as he passed
by. It was standing still looking toward him as he drove by. He was pulling a loaded trailer and was only going 40 -45 mph when
the sighting occurred.


Bigfoot Wood Knocking, Rock Tapping, and Multiple Signs Found In Wedowee - Woodland Area, Jan. 2014

We have received several reports from an area in the Wedowee, Alabama - Woodland, Alabama (Randolph County), area of numerous rock and stick
knocking over the past few weeks. Also tee-pees and other signs of the creature have been seen as well. Several different people have seen and heard
this. Witnesses report heavy logging in that area. Last report of this was about 2 weeks ago.


A Black Panther Photographed In Tuscaloosa County, Alabama

Thanks to those who have the ability to enter other peoples computers, this photo has
been deleted from my computer files. But as soon as i get a copy of this Black Panther
photo, I'll post it on here again. They can't scramble my website,,,, it still is!
(Let's see how long it takes the wizards to find out how I up dated tonight)

What May Be A Black Panther Cub video ed In Tallapoosa County, Alabama

What may be a Black Panther Cub was caught on video by a game camera in January of 2014. Not by a cheep game camera, one that allows the
owner to sit at his computer and watch it as he has time. It has the ability to be moved by the person viewing the screen at the time so they can
zoom in on what they're watching. Check out the video at the link below.