Home


Welcome to the Alabama Bigfoot Society website!

We have lots to share with you on this creature known as Sasquatch

***************************************************************************************************

Dedicated To Research And To The Preservation
Of This Creature And It's Habitat

All Photographs and descriptions belong to Jim Smith and are accurate to the best of his knowledge.


The Birmingham Free Press Newspaper

Publishes Article On Alabama Bigfoot Sightings

Recently we here at Alabama Bigfoot Society were contacted by Laurel Mills of

Alabama Outdoors Magazine


They asked us to do an interview for an article in an upcoming Alabama Outdoors Magazine.
To read this article please go to the link below

.
Alabama Outdoors Magazine - Alabama Bigfoot Society

Another panther Sighting In Zana

Over the past few weeks, I have received several Black Panther
Sighting reports. Several of those reports coming from the same area,
Zana, located between Daviston and New Site on Highway 22

A man I have known for sometime reported seeing a large black panther crossing the road in Zana only a few weeks ago. He and
some friends were traveling on Alabama Highway 22 near the guard rail area of Zana, a place I call the swamp. He said the panther
came running from the woods very low to the ground as a normal cat would run.

The sighting lasted only a few seconds but he got a very good look at the cat with the headlights of his truck. It was plain to see its long tail stretched out behind it .
This is possibly a trail for these panthers as this is the 3rd sighting reported to me near the guard rails. He also added a hunter friend of his reported seeing one in a
green field on their hunting club 3 years ago.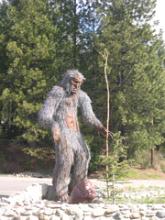 This is an 18 foot tall statue of Bigfoot! It is located in Rohnert Park, California. There is a 100 mile stretch of highway named,
"The Bigfoot Scenic Biway". It is named that because there have been more reported sightings of Bigfoot along this highway
than any other road in the United Sates! In the article i found concerning this , it stated....'The Bigfoot Scenic Biway lies within
and goes through government owned and protected lands where Bigfoot and other endangered species can be seen or
observed. The Bigfoot Scenic Biway is recognized by the U.S. Congress and by the Federal Highway Administration.
Designated 2001.'

The USDOT & The U S Forest Service Both Recognize Bigfoot As Being
A Real Endangered Species


Bigfoot Encounters Continue At Mt. Cheaha

Alabama's Highest Point

Mt. Cheaha

It was December of 2010, That a long trail of Bigfoot foot prints were discovered by hikers along one of the hiking
trails at Mt. Cheaha. This area of Alabama has been quite well known for occasional Bigfoot sightings over the
years. Not far from here in the small town of Waldo, in the 1970s & 80s was a lounge named The Bigfoot Lounge. I
was told it was named that for the many Bigfoot sightings in that area. A man connected with Alabama law
enforcement told me that on one particular mountain near Talladega, a Bigfoot or a family of them had lived there
for as long as he could remember. He claimed there was always several sightings a year from mostly hunters.
Sometime someone driving

the highway would spot one. Waldo, Talladega, and Mt. Cheaha are all located close to each other and all are in, or boundry the Talladega National Forest.
Recently I received an email from yet another camper who has encountered the sounds,,, the screams of Bigfoot at night. They were camping at one of the
camp grounds there and heard the unmistakable screams that are associated with Sasquatch. This was last June.
I plan a trip to Mt. Cheaha very soon and although I will not be able to hike and search the woods, i will take close notice of anything that may be visible from
the road.

Bigfoot Video In Provo, Utah

Around the first of November 2012, a group of campers made what is believed to be a genuine video of Bigfoot. The video
is short, but of good quality. I have watched the video several times on youtube.com. It certainly looks real to me to a
point. If you'd like to see the video go to www.youtube.com , and click in '
Provo, Utah Bigfoot'
. A couple or so clips will
come up. (The link I placed on here last night is not working for some reason). Is it real, you watch and decide.

For over 40 years I have researched and looked for this elusive creature. Literally hundreds of days ands nights I have sat
in the woods, in cemeteries, along dirt roads, in fields and pastures, even in my front yard many years ago. Most of those
nights a trusted friend was with me. Almost anywhere nearby that we heard of a sighting, we were there as soon as
possible. We tried to endure all the weather Alabama could dish out. Many times it paid off. At times we heard something,
and on some rare occasions we saw something. We have come very close to these creatures. Seen things you wouldn't
believe if I put it on here. I know many times they saw us and we never had a clue they were watching us. I wonder how
many times they watched us while we were looking for them? Then I think sometimes they intensionally tried to scare us.
Believe me, if they were trying to scare us, they did! But in all the field trips we have made so far, there were only 2 times I
felt we might be in danger. Overall, it is my opinion, they are almost human. A pre-human primate, for lack of a better term.
. What ever they are, I will call them a friend. I like the illustration and would hope someday it will become a real photograph.
I think I'll call the drawing, 'A Friend Yet To Meet'.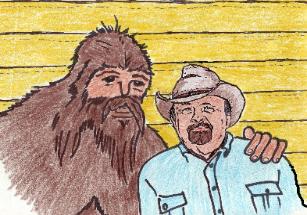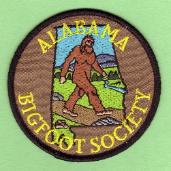 Alabama Bigfoot Society

P.O. Box 6
Wadley, AL 36276

Bigfoot Is Not A Monkey, Not A North American Ape.

Site Updated
April
22
, 2014

Dr. Melba Ketchum, Bigfoot DNA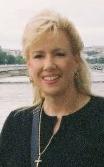 The following article is my thoughts and opinions on Dr. Melba Ketchums extensive research
and work she and her staff have completed on Bigfoot DNA.

Dr. Melba Ketchum

I personally had never heard of Dr. Ketchum or her Bigfoot DNA work until a few weeks ago when a fellow Alabama Bigfoot Society
member told me of her. He had come across her work while Internet surfing 'Bigfoot'. Since that time I have had the pleasure to listen to
her on Coast To Coast Am, (late night radio talk show) with George Knapp, on two different occasions . And also an interview on another
radio show that is on youtube.com.

First I would like to relate what happened to me only a few days ago. A person I have known many years, stumbled across my website. I
had never mentioned to them that i had one. And a paranormal one at that. Here in Alabama you have to be careful who you mention
Bigfoot, ghosts, UFO, or anything paranormal to. Mention it to the wrong person and you'll be labeled crazy, laughed at, ridiculed and
made fun of, for the remainder of your life. . Oh, how the close minded, or ignorant people as I call them, love to ridicule! But after reading
some of this site they called a family member and told them to check it out. They both are very into and interested in the paranormal. Both
were surprised I had a paranormal site. 'He's just a simple ole country boy..' they both mused, who'd ever thought Jim was so big into
Bigfoot and the such.

To me and many men here in the south, being labeled a 'simple, good ole country boy' is about the highest compliment you can get! It is to me anyway!
When your a simple, good ole country boy, you are an honest and sincere person, a person who's word can be taken, a person who doesn't think they
are better than any one else.

Now back to Dr. Ketchum,,, this is somewhat how she came across to me on the radio. (Not simple, ole or country), but a very sincere, honest person
who's word can be taken.

Dr. Ketchums analysis of her Bigfoot DNA findings called 'Novel North American Hominin' was suppose to be published but for some reason or reasons
the journal that was suppose to publish it declined to do so. This was much the topic of her radio interview on Sunday, Feb. 17, 2013...why didn't they
publish it... after all, they had told her they would.
Well here's my opinion on why the journal didn't published it....
Greed, jealousy, and money.

No matter what you research and find out or learn about Bigfoot, there's always someone telling you how completely wrong you are. Everyone wants to
be the utmost authority on them. As far as i know there is not one in captivity being studied. So the theories we serious researchers come up with are the
conclusions we make after many long hours in the field. That's the way it is with us anyway. Many of the 'noted' Bigfoot people are very greedy in wanting
everything they say to be gospel. Face it, it just doesn't always work out that way. The jealousy... again there are those who wish they'd came up with her
findings. They want to be in the spot light. And the money part. To me this is the main problem not only with Bigfoot but with everything. Bigfoot is a big
money maker right now. There are countless Bigfoot shows on TV so that means big money for some one. The people on the shows, the creators of the
shows and the advertisers. Why do you think so many networks have Bigfoot shows? It is what the public is interested in this week and that means
viewers, and that mean money to advertisers. To the people with museums and other attractions that bring in Bigfoot dollars, they don't want this mystery
solved. It could be a dent in profits. Oh and the big money book deals with publishers. I don't mean like the little booklets i have done to help finance
research and website costs, I mean the thousands of dollars book deals lots of big name bigfoot people have and will be getting in the future.

Dr. Ketchums analysis is available through download for a fee. You can click in her name and search on the Internet for it. I believe Dr. Ketchum and her
findings. There were many things she said that I know to be true from investigating the creature myself.


A Guardian Angel That Protected A Soldier
In The War In Iraq

Are there really Guardian Angels? I have always believed so and today a soldier who says that if his Guardian
Angel had not walked close to him in Iraq, he would not have made it home alive! Click the link below to go to
Sacred Flame Church page for the full story!


The Soldier's Guardi
an Angel

Click Here

Wedowee, Alabama

256-357-0101


Friday July 5, 2013, Jim and Dorothy had the pleasure to be guests on Paranormal Odyssey Podcast with Bo Luellen. They were the second half guests and
shared the podcast with Noted Zombie expert Faith Serafin. Their part of the podcast passed quickly as Mr. Luellen made them feel right at home discussing the
Sasquatch phenomena, then UFOs and ghost as well. Theirs is podcast #47 and click the link below to listen to the entire show.

Jim & Dorothy Interviewed on Paranormal Odyssey
Podcast With Host Bo Luellen


Bigfoot Sighting In Horseshoe Bend National Military Park

The afternoon of Wednesday July 24, 2013, for a while in parts of Tallapoosa County, was the sight of severe storms once again. I was driving west on Highway
22 and in all places to be, was in the middle of Zana, when I drove into the storm. Winds were very high and several trees were up rooted in the surrounding area.
It seemed as the wind came from all directions and the rain was so heavy, I had to pull off the road for some time to ride out the storm.
Later when I finally returned home this evening, I received a report of a Bigfoot Sighting in Horseshoe Bend National Military Park. The weather had also been
very bad there as a tree was blown across the road on County Road 79 just as you enter the Park.
The Bigfoot was seen around 3:30 PM. It was on the opposite side of Hwy. 49 from the museum. The witness said it was not far into the woods, was 7 to 8 feet tall,
reddish brown and you could tell it was wet, soaked. The area of this land belongs to the park, but is not normally used by visitors there. It was seen in an access
road. I plan to go there tomorrow and look for tracks, if I receive permission by park officials. And if it can possibly hold off raining a few hours here. If rains fall
tonight as I expect, there will be no need searching.
This area has been soaked for some time now as every day, tremendous rains fall here. Usually this time of year we are very dry. Drought conditions actually, but
not this year!

Two More Additional Bigfoot Sightings At Horseshoe Bend !

It seems the month of July was an active time for Sasquatch to be moving around in the Horseshoe Bend Park near New
Site, Alabama. We have received 3 reports, all from different people and different times of day. The first report was early in
the month. A woman and her son were visiting the park and were near the village area. In the distance they noticed
movement in a stand of trees. Upon further and closer observation, they could see a large hairy creature walking on two
legs moving in and out of the trees. They watched it for some time as it moved deeper into the forest and finally out of
sight.
The second sighting is the one listed above on July 24.

If you would like
to advertise
on this site,
then just e mail us


The third sighting comes from a truck driver who passes through the Park nightly on a delivery run. His sighting was on the Dadeville side of the river and
near the Park entrance-exit sign. The sighting was somewhat unnerving and he isn't ready to go into detail about the sighting at this time. He says he never
saw anything like the creature which he did describe as being HUGE, covered in long matted hair and standing on two legs. When he becomes more
comfortable with the sighting, we'll have the details here.
If you have seen anything in the Park or the Park area, or had any type sighting, please contact us through our contact us page.


Your Ad Could Be Here!



Bigfoot Sighted Near Daviston, Alabama ! Sept. 1. 2013


Bigfoot Seen Crossing Highway 22 ! October 10, 2013

If you have read this site, you know of Zana. Zana is a piece of real estate that lies between Daviston and New Site, Alabama. It is a supernatural place ! ...to say
the least. I'll get an article of what i know about Zana, on here soon. Last night I received another Bigfoot sighting report from Zana (10-10-13). This is an area in
Tallapoosa County where numerous sightings have been reported to me. Not only Bigfoot sightings, but ghosts and other paranormal things as well! The
sighting was made at 7:05 PM. It was dark now that the days are getting shorter. The witness had been to New Site and was returning home. They had just
passed Chappell Road and was heading east on Hwy. 22. This is the area I sometimes refer to as the Straight away. It is about 1 mile in length.


Another Encounter At The Horseshoe!

Over the long, hot, lazy, Dog Days Of Summer, sighting reports to us slowed, but with the cooling nip of Fall in full swing and winter quickly approaching,
business has picked up! On Sunday morning, Oct. 20, 2013, around 11:30 AM, rock tapings were heard by two of our members and one of the members 9 yr. old
grandson, Jacob. The trio, standing under the pavilion that over looks the village area decided to do an experimental taping. (There has been several Bigfoot
sighting reports to us over the summer stemming from the park). Soon, after a few moments of taping themselves, came a reply from the densely wooded area
behind the pavilion.
As they continued their experimental 'call', the replies they were getting grew closer and closer. The final taps were so close and so loud according to an email
sent to me by Jacob, 'That we should have been able to see it!' The first return taps were a long way off and faint . The sound of the taps becoming louder moved
nearer very swiftly. Too fast for a human to run through the thick woods.
At this point they decided it was time to return to their car.... they'd seen no other people, and no other vehicles in this area of the park. Who or 'what' was
returning the taping call was a little to o close for comfort.


The Huntsville Times Newspaper Publishes Bigfoot Article
With Excerpts, Photos, and Drawing From Our Website

A few days ago, Jim was contacted by The Huntsville Times Newspaper reporter Kelly Kazek about doing an article on Bigfoot and other paranormal creatures in
Alabama. Of course we were very happy to be of assistance on the subject and they have published a feature on the topic. We were very pleased and excited
that they used not only excerpts from some of the articles, but photos and illustrations as well from ABS website! The Huntsville Times is one of the south's
largest and most prestigious newspaper publications and I would like to thank them very much for considering and using us. You can read the article by clicking
the link
.

The Huntsville Times Bigfoot Report



Visitors

The First Week Of November Brings A Bigfoot Sighting In Clay County

Ashland and Lineville are the two major towns in Clay County, Alabama. Both are located along Alabama Highway 9. Last week, (the first week of the month), a
large Bigfoot was witnessed by a local resident in a location between the 2 towns. The sighting was made in their back yard while doing some afternoon yard
work. According to what we've been told, the person has a large wooded area behind their home. While working they thought they noticed some movement
along the edge of the forest out of the corner of their eye. As anyone does, they too glanced to the direction of the movement. To their surprise and shock, a
large Bigfoot was walking next to the trees. It was a deep brown color and walked slightly slumped forward. It apparently paid the land owner no attention as it
journeyed onward. The landowner was extremely frightened and ran into the safety of their home, although they say the Bigfoot showed no hostilities.



Alabama Outdoors Magazine

Publishes Article On Alabama Bigfoot Sightings


Tracks Photographed InTallapoosa County




Click The Link Below
To Hear All Our Podcasts!

On November 20, 2013, Bigfoot Tracks were photographed and sent to us. The story is on recent sighting page

Another Clay County Sighting Reported


This sighting occurred shortly after the sighting above. We are still working on this sighting that happened in the Millerville-Ashland Area and will have the
details shortly on Recent sightings Page

Horseshoe Bend National Military Park 200th Anniversary

On March 27, 1814, the final battle of the Creek Indian War was fought at Horseshoe Bend located near the towns of New Site, Daviston, Alexander City, and
Dadeville, Alabama. This year marks the 200 year anniversary. Commemorations at the park will be held March 27, 28, & 29, 2014 according to the Alabama
Tourism Travel Guide. Make your plans to attend if at all possible. And check out our podcast on Horseshoe Bend's 200th Anniversary

I am still getting all the details on the sighting. The witness says they were startled and shocked at seeing one, and
seeing one so plainly! As the Bigfoot passed the sign, the witness says they could actually see the long hair on the back
of its head and shoulders flowing, moving! They claim a facial outline was quite plain.

I and the witness have been to the location of this sighting and have measured the sign for the height of the Sasquatch.
In our conservative opinion, the creature stood a good Nine feet tall ! This area, the Straight Away, has been a location
of numerous sightings over the years and many times, it has been a huge creature reported. Our team will be
investigating this sighting and area in the coming days..... and nights.

Randolph County
Animal Shelter

As you approach the end of the Straight Away going east, you'll see a large yellow road sign. It is a diamond shaped, left
turn curve sign. And on Thursday night a Bigfoot walked in front of the sign as the witness saw him or her very well! As
with all road signs, this one too is reflective. The car's headlights made the sign appear lighted,,, well lighted. According to
the witness the head and shoulders were extremely visible and plain with the curve sign providing light. The creature took
about 3 steps to cross the highway. It came from the drivers right and walked to the left. As it reached the edge of the
highway, it faded into the right of way and disappeared into the thick, dark woods.

Antique Mall of Memories

In
Alexander City, Alabama

Going Out Of Business Sale

After 20+ Years In Business, Will Soon Close Theirs Doors For Good!

Come Spend an Afternoon In Our Giant
Museum / Store!

It will take a while to browse as we have
15,000 square feet of nothing but
First Quality Antiques

Glassware * Tools * Furniture * Toys * Clothes * Books * Pottery * Dishes * Planters * Indian Artifacts * Collectibles * Fishing & Hunting * & Much More !

*Select From The Wares Of
30 Dealers!

Located Next Door To

Home Depot

US Highway 280
Alexander City, Alabama

Be sure and join us for our next telephone
conference. The call in number is
530-881-1400 or Skype in
freeconferencecallhd.5308811400
Participant code: 270264.
We have scheduled our next call for
April 21, 2014 at 9:30 p.m. Central Time.



Black Panther photographed In Tuscaloosa County

Hopefully we will have the photo back on soon