Home


Welcome to the Alabama Bigfoot Society website!

We have lots to share with you on this creature known as Sasquatch

***************************************************************************************************

Dedicated To Research And To The Preservation
Of This Creature And It's Habitat

All Photographs and descriptions belong to Jim Smith and are accurate to the best of his knowledge.


The Birmingham Free Press Newspaper

Publishes Article On Alabama Bigfoot Sightings

Recently we here at Alabama Bigfoot Society were contacted by Laurel Mills of

Alabama Outdoors Magazine


They asked us to do an interview for an article in an upcoming Alabama Outdoors Magazine.
To read this article please go to the link below

.
Alabama Outdoors Magazine - Alabama Bigfoot Society

Another panther Sighting In Zana

Over the past few weeks, I have received several Black Panther
Sighting reports. Several of those reports coming from the same area,
Zana, located between Daviston and New Site on Highway 22

A man I have known for sometime reported seeing a large black panther crossing the road in Zana only a few weeks ago. He and
some friends were traveling on Alabama Highway 22 near the guard rail area of Zana, a place I call the swamp. He said the panther
came running from the woods very low to the ground as a normal cat would run.

The sighting lasted only a few seconds but he got a very good look at the cat with the headlights of his truck. It was plain to see its long tail stretched out behind it .
This is possibly a trail for these panthers as this is the 3rd sighting reported to me near the guard rails. He also added a hunter friend of his reported seeing one in a
green field on their hunting club 3 years ago.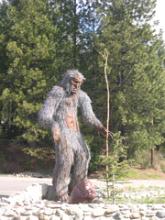 This is an 18 foot tall statue of Bigfoot! It is located in Rohnert Park, California. There is a 100 mile stretch of highway named,
"The Bigfoot Scenic Biway". It is named that because there have been more reported sightings of Bigfoot along this highway
than any other road in the United Sates! In the article i found concerning this , it stated....'The Bigfoot Scenic Biway lies within
and goes through government owned and protected lands where Bigfoot and other endangered species can be seen or
observed. The Bigfoot Scenic Biway is recognized by the U.S. Congress and by the Federal Highway Administration.
Designated 2001.'

The USDOT & The U S Forest Service Both Recognize Bigfoot As Being
A Real Endangered Species


Bigfoot Encounters Continue At Mt. Cheaha

Alabama's Highest Point

Mt. Cheaha

It was December of 2010, That a long trail of Bigfoot foot prints were discovered by hikers along one of the hiking
trails at Mt. Cheaha. This area of Alabama has been quite well known for occasional Bigfoot sightings over the
years. Not far from here in the small town of Waldo, in the 1970s & 80s was a lounge named The Bigfoot Lounge. I
was told it was named that for the many Bigfoot sightings in that area. A man connected with Alabama law
enforcement told me that on one particular mountain near Talladega, a Bigfoot or a family of them had lived there
for as long as he could remember. He claimed there was always several sightings a year from mostly hunters.
Sometime someone driving

the highway would spot one. Waldo, Talladega, and Mt. Cheaha are all located close to each other and all are in, or boundry the Talladega National Forest.
Recently I received an email from yet another camper who has encountered the sounds,,, the screams of Bigfoot at night. They were camping at one of the
camp grounds there and heard the unmistakable screams that are associated with Sasquatch. This was last June.
I plan a trip to Mt. Cheaha very soon and although I will not be able to hike and search the woods, i will take close notice of anything that may be visible from
the road.

Bigfoot Video In Provo, Utah

Around the first of November 2012, a group of campers made what is believed to be a genuine video of Bigfoot. The video
is short, but of good quality. I have watched the video several times on youtube.com. It certainly looks real to me to a
point. If you'd like to see the video go to www.youtube.com , and click in '
Provo, Utah Bigfoot'
. A couple or so clips will
come up. (The link I placed on here last night is not working for some reason). Is it real, you watch and decide.

For over 40 years I have researched and looked for this elusive creature. Literally hundreds of days ands nights I have sat
in the woods, in cemeteries, along dirt roads, in fields and pastures, even in my front yard many years ago. Most of those
nights a trusted friend was with me. Almost anywhere nearby that we heard of a sighting, we were there as soon as
possible. We tried to endure all the weather Alabama could dish out. Many times it paid off. At times we heard something,
and on some rare occasions we saw something. We have come very close to these creatures. Seen things you wouldn't
believe if I put it on here. I know many times they saw us and we never had a clue they were watching us. I wonder how
many times they watched us while we were looking for them? Then I think sometimes they intensionally tried to scare us.
Believe me, if they were trying to scare us, they did! But in all the field trips we have made so far, there were only 2 times I
felt we might be in danger. Overall, it is my opinion, they are almost human. A pre-human primate, for lack of a better term.
. What ever they are, I will call them a friend. I like the illustration and would hope someday it will become a real photograph.
I think I'll call the drawing, 'A Friend Yet To Meet'.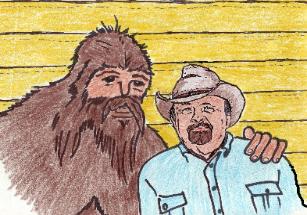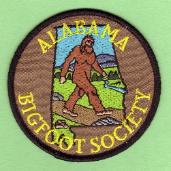 Alabama Bigfoot Society

P.O. Box 6
Wadley, AL 36276

Bigfoot Is Not A Monkey, Not A North American Ape.

Site Updated
Aug. 1
5
, 2014

Dr. Melba Ketchum, Bigfoot DNA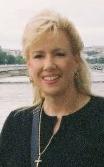 The following article is my thoughts and opinions on Dr. Melba Ketchums extensive research
and work she and her staff have completed on Bigfoot DNA.

Dr. Melba Ketchum

I personally had never heard of Dr. Ketchum or her Bigfoot DNA work until a few weeks ago when a fellow Alabama Bigfoot Society
member told me of her. He had come across her work while Internet surfing 'Bigfoot'. Since that time I have had the pleasure to listen to
her on Coast To Coast Am, (late night radio talk show) with George Knapp, on two different occasions . And also an interview on another
radio show that is on youtube.com.

First I would like to relate what happened to me only a few days ago. A person I have known many years, stumbled across my website. I
had never mentioned to them that i had one. And a paranormal one at that. Here in Alabama you have to be careful who you mention
Bigfoot, ghosts, UFO, or anything paranormal to. Mention it to the wrong person and you'll be labeled crazy, laughed at, ridiculed and
made fun of, for the remainder of your life. . Oh, how the close minded, or ignorant people as I call them, love to ridicule! But after reading
some of this site they called a family member and told them to check it out. They both are very into and interested in the paranormal. Both
were surprised I had a paranormal site. 'He's just a simple ole country boy..' they both mused, who'd ever thought Jim was so big into
Bigfoot and the such.

To me and many men here in the south, being labeled a 'simple, good ole country boy' is about the highest compliment you can get! It is to me anyway!
When your a simple, good ole country boy, you are an honest and sincere person, a person who's word can be taken, a person who doesn't think they
are better than any one else.

Now back to Dr. Ketchum,,, this is somewhat how she came across to me on the radio. (Not simple, ole or country), but a very sincere, honest person
who's word can be taken.

Dr. Ketchums analysis of her Bigfoot DNA findings called 'Novel North American Hominin' was suppose to be published but for some reason or reasons
the journal that was suppose to publish it declined to do so. This was much the topic of her radio interview on Sunday, Feb. 17, 2013...why didn't they
publish it... after all, they had told her they would.
Well here's my opinion on why the journal didn't published it....
Greed, jealousy, and money.

No matter what you research and find out or learn about Bigfoot, there's always someone telling you how completely wrong you are. Everyone wants to
be the utmost authority on them. As far as i know there is not one in captivity being studied. So the theories we serious researchers come up with are the
conclusions we make after many long hours in the field. That's the way it is with us anyway. Many of the 'noted' Bigfoot people are very greedy in wanting
everything they say to be gospel. Face it, it just doesn't always work out that way. The jealousy... again there are those who wish they'd came up with her
findings. They want to be in the spot light. And the money part. To me this is the main problem not only with Bigfoot but with everything. Bigfoot is a big
money maker right now. There are countless Bigfoot shows on TV so that means big money for some one. The people on the shows, the creators of the
shows and the advertisers. Why do you think so many networks have Bigfoot shows? It is what the public is interested in this week and that means
viewers, and that mean money to advertisers. To the people with museums and other attractions that bring in Bigfoot dollars, they don't want this mystery
solved. It could be a dent in profits. Oh and the big money book deals with publishers. I don't mean like the little booklets i have done to help finance
research and website costs, I mean the thousands of dollars book deals lots of big name bigfoot people have and will be getting in the future.

Dr. Ketchums analysis is available through download for a fee. You can click in her name and search on the Internet for it. I believe Dr. Ketchum and her
findings. There were many things she said that I know to be true from investigating the creature myself.


Wedowee, Alabama

256-357-0101


Friday July 5, 2013, Jim and Dorothy had the pleasure to be guests on Paranormal Odyssey Podcast with Bo Luellen. They were the second half guests and
shared the podcast with Noted Zombie expert Faith Serafin. Their part of the podcast passed quickly as Mr. Luellen made them feel right at home discussing the
Sasquatch phenomena, then UFOs and ghost as well. Theirs is podcast #47 and click the link below to listen to the entire show.

Jim & Dorothy Interviewed on Paranormal Odyssey
Podcast With Host Bo Luellen

If you would like
to advertise
on this site,
then just e mail us

Your Ad Could Be Here!



Bigfoot Seen Crossing Highway 22 ! October 10, 2013

If you have read this site, you know of Zana. Zana is a piece of real estate that lies between Daviston and New Site, Alabama. It is a supernatural place ! ...to say
the least. I'll get an article of what i know about Zana, on here soon. Last night I received another Bigfoot sighting report from Zana (10-10-13). This is an area in
Tallapoosa County where numerous sightings have been reported to me. Not only Bigfoot sightings, but ghosts and other paranormal things as well! The
sighting was made at 7:05 PM. It was dark now that the days are getting shorter. The witness had been to New Site and was returning home. They had just
passed Chappell Road and was heading east on Hwy. 22. This is the area I sometimes refer to as the Straight away. It is about 1 mile in length.



The Huntsville Times Newspaper Publishes Bigfoot Article
With Excerpts, Photos, and Drawing From Our Website

A few days ago, Jim was contacted by The Huntsville Times Newspaper reporter Kelly Kazek about doing an article on Bigfoot and other paranormal creatures in
Alabama. Of course we were very happy to be of assistance on the subject and they have published a feature on the topic. We were very pleased and excited
that they used not only excerpts from some of the articles, but photos and illustrations as well from ABS website! The Huntsville Times is one of the south's
largest and most prestigious newspaper publications and I would like to thank them very much for considering and using us. You can read the article by clicking
the link
.

The Huntsville Times Bigfoot Report



Visitors

The First Week Of November Brings Two Bigfoot Sightings In Clay Co.

Ashland and Lineville are the two major towns in Clay County, Alabama. Both are located along Alabama Highway 9. Last week, (the first week of the month), a
large Bigfoot was witnessed by a local resident in a location between the 2 towns. The sighting was made in their back yard while doing some afternoon yard
work. According to what we've been told, the person has a large wooded area behind their home. While working they thought they noticed some movement
along the edge of the forest out of the corner of their eye. As anyone does, they too glanced to the direction of the movement. To their surprise and shock, a
large Bigfoot was walking next to the trees. It was a deep brown color and walked slightly slumped forward. It apparently paid the land owner no attention as it
journeyed onward. The landowner was extremely frightened and ran into the safety of their home, although they say the Bigfoot showed no hostilities.



Alabama Outdoors Magazine

Publishes Article On Alabama Bigfoot Sightings



Click The Link Below
To Hear All Our Podcasts!


A sighting occurred shortly after the sighting above. We are still working on this sighting that happened in the Millerville-Ashland Area and will have the details
shortly on Recent sightings Page

Numerous Reports are coming from Winston, Cullman & Lawrence Counties

June 2014...Reported sightings of Bigfoot had slowed this summer, but over the last few weeks, sightings of the elusive creature have been
reported to us. Winston County being the most reports, then Cullman second and some from Lawrence. Tallapoosa Has had its share as well
lately. Logging has resumed in Tallapoosa, that always brings them out of the woods. Something is going on in Winston Co., several sightings in
and near the Sipsey Wilderness.

I am still getting all the details on the sighting. The witness says they were startled and shocked at seeing one, and
seeing one so plainly! As the Bigfoot passed the sign, the witness says they could actually see the long hair on the back
of its head and shoulders flowing, moving! They claim a facial outline was quite plain.

I and the witness have been to the location of this sighting and have measured the sign for the height of the Sasquatch.
In our conservative opinion, the creature stood a good Nine feet tall ! This area, the Straight Away, has been a location
of numerous sightings over the years and many times, it has been a huge creature reported. Our team will be
investigating this sighting and area in the coming days..... and nights.

Randolph County
Animal Shelter

As you approach the end of the Straight Away going east, you'll see a large yellow road sign. It is a diamond shaped, left
turn curve sign. And on Thursday night a Bigfoot walked in front of the sign as the witness saw him or her very well! As
with all road signs, this one too is reflective. The car's headlights made the sign appear lighted,,, well lighted. According to
the witness the head and shoulders were extremely visible and plain with the curve sign providing light. The creature took
about 3 steps to cross the highway. It came from the drivers right and walked to the left. As it reached the edge of the
highway, it faded into the right of way and disappeared into the thick, dark woods.


Black Panther photographed In Tuscaloosa County

PHOTO IS BACK ON RECENT SIGHTINGS PAGE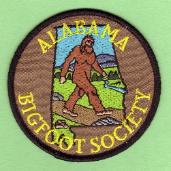 PLEASE KEEP IN MIND ABOUT OUR PATCHES, CAPS AND
OTHER ITEMS WE SELL WITH OUR LOGO ON....

We sell these items to finance the site and investigations. REMEMBER, that just because someone is wearing our logo, it doesn't mean they
are a member. If you have reason, ask them for their membership certificate, if they are claiming to be a member of this society. We have few
members. But just as other organizations like The University of Alabama and Auburn University, they sell items to finance their colleges. Not
everyone that wears Alabama or Auburn, t shirts and caps play football for them. It is the same way here. You can always email us with
questions concerning members.

***************************************************************************************************


Bigfoot Footprint Casts Mysteriously Disappear

According to a person who made plaster casts of Bigfoot footprints, after turning the casts over to a professor at The Even
though they personally handed the prints to him.
The casts were made in the Tuscaloosa area near the Warrior River some time ago by a husband and wife. They photographed
the casts before the husband decided they should let the university look at them for evaluation since the prints looked human
but were about 18 inches long by 5 plus inches wide. They never heard anything from Alabama or the professor so one day they
contacted the professor again to inquire about them. .. What he thought they might be. He denied ever having them and acted if
they were making up the story. Then sometime later, the wife purchased a book by a well known Bigfoot author and in the book
were photos of the casts they had turned over to Univ. of Alabama. She says she recognised the prints the second she saw
them.
If you have photos of prints or cast you've made. I will post those photos on this site and will give you credit if you want your
name with them, we do keep identies confidential, unless you say it is OK to do otherwise.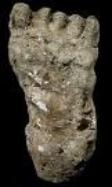 Photo is not one of the
actual prints, it is a file photo.

Membership To The
Alabama
Bigfoot Society
Will Be On Here Soon!




Please see article on '
Services Page'

Is it a Bigfoot or a Genoskwa ?

According to many Native American Indian Tribes, there are two different Sasquatch creatures roaming our woods and country
sides. One is the mostly gentle Bigfoot as they are known, that may be seen in daylight or nightime. But he has a cousin that is
more on the aggressive side, the Genoskwa, do a search on google or on you tube. The Genoskwa is said to have attacked Indian
villages and killed tribe members. It is also supposed to have eaten its victoms. Its favorite way to kill is to twist off the head! In
groups it is suppose also to have attacked entire villages and killed numerous people at a time.

The Genoskwa

It is suppose to be larger than a normal Bigfoot and have a rock hard skin, which may be dried mud from living under ground in damp or wet
underground tunnels. The Genoskwa is only seen at night and spends days in caves or tunnels. It too has a very bad odor, which may be
from living conditions. The normal Sasquatch has been reported as bad smelling sometimes, but that could be a defence similar to a skunk.
Maybe if they feel your too close a quick shot of musk could send you in the opposite direction from them. The Genoskwa is said to be very
mean and ill tempered. They are larger than Sasquatch, so that means nine feet plus! Use caution on your night time outings especially in
areas of caves like many National parks. Could be that Genoskwa is responsible for the many disappearances in National Parks

Historical drawing of
Genoskwa


M.K. Davis Sheds Few Real Thoughts On Patterson- Gemlin Film

I saw on Coast To Coast Am website an article about M.K. Davis and his work on the Patterson-Gemlin film , shot in 1967 by Roger
Patterson. One thing he has is the possibility of other sasquatch in the film. I had heard this several years ago and with his enhancement of
the film, as many as 3 additional sasquatch may have been caught on film that day. He has few other things worth watching and thinking
about. And he has several clips certainly not worth your time. Maybe you wont agree 100% with him, I don't, some of the videos cause me
to question his reason for saying such things. and what is going on in his mind. I think he sees what he wants to see in the film.

I saw hardly anything he claims is there. Just go to youtube.com and search 'M.K. Davis' There will be several clips . We may discuss some of these in our
next month teleconference. Some things he has, I feel are a possibility, some things, however, I feel are a crock and after watching many of his videos, I feel
as if he may need counseling and extended therapy. Just my opinion. He does not impress me as a serious researcher.

Membership Information

is now available on the
Contact Us Page!

Be sure and join us for our next telephone
conference. The call in number is
530-881-1400 or Skype in
freeconferencecallhd.5308811400
Participant code: 270264.
We have scheduled our next call for
July 15, 2014 at 8:30 p.m. Central Time.

Check out our latest
Podcast with Speciasl
Guest Host

Mary Katherine Scruggs


Super Moon Photo Shows An Orb & Maybe A UFO

This is a photo of July 2014 Full Moon, Called a Super Moon. It was taken as the full moon rose slowly over Lake Martin, near
Alexander City, Alabama. The photographer noticed nothing when the photo was snapped, only later that night upon reviewing
the photos did they see what they think are orbs very near the moon. The one on the left appears to be an orb, but notice the
light on the right side of the moon. It appears much more solid. The light near the ground next to the house is a refection of the
auto tag on the car. It may be a UFO, for over the years I have investigated and researched the paranormal. I have received
numerous reports of UFOs over and around Lake Martin. Several reports of UFOs diving into the lake and coming out of the
water as well. Reports from ordinary people, business owners, law enforcement people, doctors & elected officials

There was also a report or confession from a elderly man, deceased now, who told me he'd give a death bed confession, that he
knew there was an under ground/under water UFO base beneath Lake Martin, for he had once worked there.